FEEL GOOD. PLAY BETTER.
Disc golf has become the sport of choice for recreation and nature lovers, with more than 1 million new disc golfers created in the past year, says the DGPT. The sport's consistent growth over the past decade experienced a boost during the pandemic, as outdoor enthusiasts and athletes around the world discovered disc golf as an accessible activity they can enjoy responsibly and safely.
"We're excited to help grow the sport of disc golf — and it's an added bonus to help the athletes recover and perform at their best level," says Heather Kreider, co-founder of Hempfield Botanicals. "We're disc golf enthusiasts ourselves, and we love to see the sport gain new players and fans!"
Disc golf is an easy-to-play mirror of traditional golf, except players throw discs into baskets instead of using a club to hit a golf ball into a hole. It's easier to learn, and doesn't require expensive equipment, making it a casual and affordable way to bring generations of people together outdoors.
"We're humbled by the support of our clients over the past year. Their continued patronage not only allowed us to survive the pandemic, but to support an activity that's helping our community recover in a healthy, environmentally-friendly way," says Nathan Kreider, Heather's husband and co-founder of Hempfield Botanicals.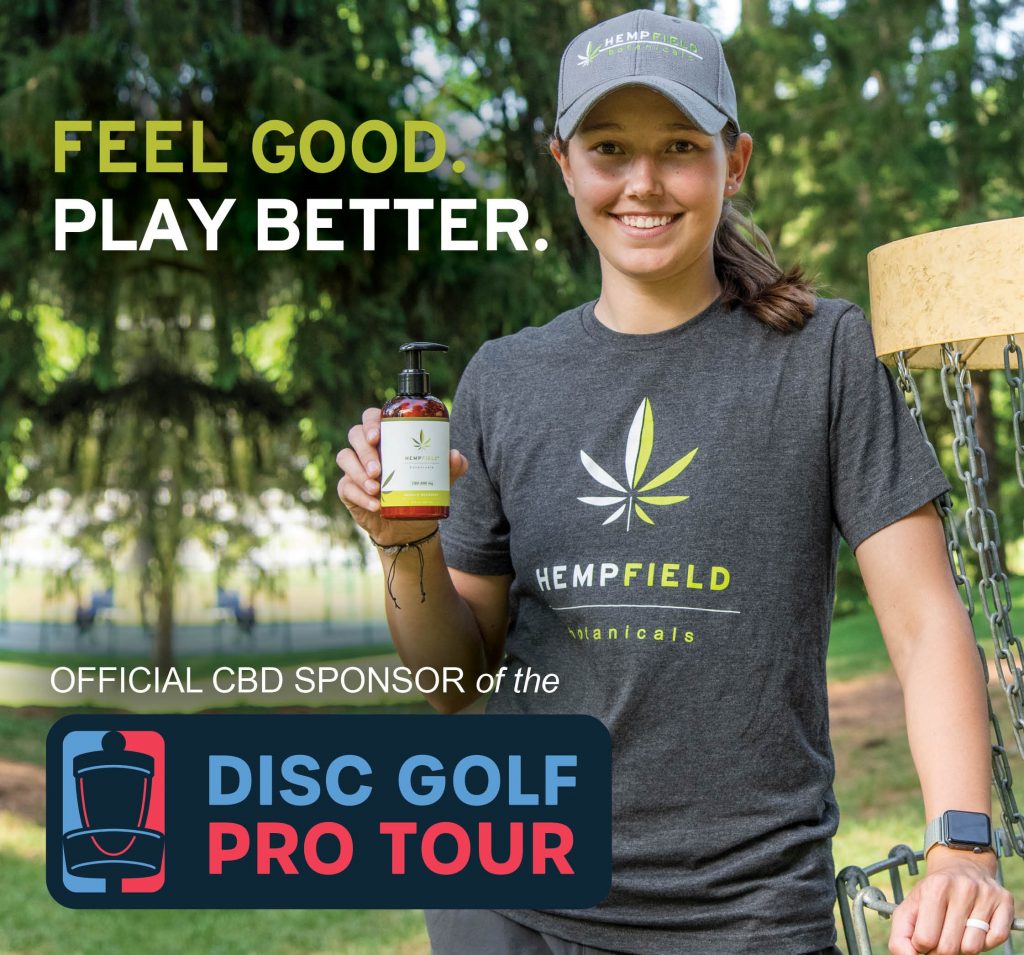 WHY CHOOSE HEMPFIELD BOTANICALS?
HFB is the official partner of the Disc Golf Pro Tour
HFB products are recommended and used by various athletes throughout the country including minor and major league
HFB is a Certified B-Corporation – using our business as a force for good
HFB products are recommended by Orthopedic Surgeons, Chiropractors, and Physical Therapist
"I recommend Hempfield Botanicals. I believe it's a company that makes good CBD products," says Dr. John Rodgers, M.D., an orthopedic surgeon with Orthopedic Associates of Lancaster.
"Most patients who come in have been trying Tylenol, Aleve, and other over-the-counter pain relievers," he says, and some have tried chiropractic care. Many have also tried supplements, like glucosamine, and topicals, such as BioFreeze. Some patients have also tried opioids, but experience the negative side effects that are common with that class of medication.

Dr. Rodgers first started recommending CBD (cannabidiol) in 2018, after seeing the growing successful use of that treatment by his patients. "It's another avenue to try before getting surgery, such as a joint replacement," he says. Many of his patients don't know about cannabidiol before he recommends trying it. For the patients who respond to it well, he says, it helps them get through the day without being overtaken by pain. This includes being able to sleep through the night.
SPONSORED DISC GOLF ATHLETES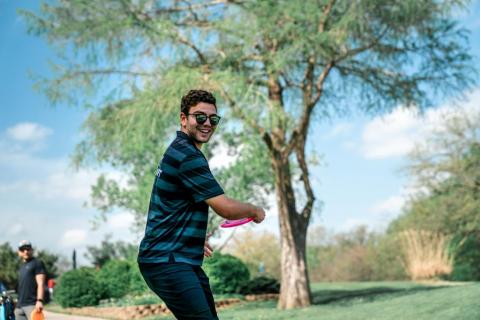 Name: Philip Bartholomew
Hometown: Raleigh, NC
PDGA Number: 45441 https://www.pdga.com/player/45441
PDGA Rating: 1007
Bio: coming soon
"I work very closely with Hempfield Botanicals trying to open the eyes of the disc golf world to the all natural solutions for your every day aches and pains.

Some of you may struggle mentally, others physically. Personally, I struggle with both of those problems. Having worked in the health and wellness industry, ad seeing first-hand effective CBD can positively affect your body made this sponsorship offer a no-brainer.

I would love to help anyone in search of all natural solutions to help ease anxiety, depression, muscle aches, insomnia, you name it. Hempfield Botanicals is a great way to improve your quality of life."

Phillip Bartholomew, Professional Disc Golf Athlete
---

---
HEMPFIELD BOTANICALS TESTIMONIALS
With my profession, my body gets beat up regularly. Using the muscle recovery and salve has been an absolute game changer for me! After only a couple of uses, I have felt a huge difference and it just keeps getting better and better as time goes on! I had so much pain in my hands and these products have truly healed! Also as an avid sun worshipper, the cbd face oil is moisturizing on an unparalleled level! I honestly could not recommend these products enough! I'm hooked!

Emily E.
I have been using the relief oil, salve, and lotion to keep my arthritis symptoms in check. All of the products have done wonders for controlling the pain and stiff joints from my arthritis. Hempfield Botanicals have very high quality products, incredible customer service, and truly care about your overall health and well being. I will be a customer for life and I cannot recommend them enough!

Kevin B.
My doctor recommended Hempfield Botanicals due to my increasing level and diagnosis of anxiety. These products have truly helped me! I use the full spectrum CBD oil – and trust me…. I've tried many products from other companies. Not only do they have top quality products, but their customer care is 110%. It was so nice to chat and ask questions. Thank you!

Amy R.
I can't express enough how much I LOVE these products. With the help of the Comfort Oil, I have been able to fully wean myself off of pharmaceutical prescriptions for anxiety that made me feel like a shell of myself. The oil puts me at ease, while still allowing me to maintain a clear head and full control over my being. I've also tried the muscle recovery lotion and can't recommend that enough to those who are regularly active or to those who have on-going pain. Beyond the products themselves, the people who make them happen deserve their own set of 5 stars. Heather and her team are incredibly knowledgeable, thorough, and just all around amazing at what they do. You will not regret anything you purchase from them!!

Ashley H.
BECOME A HEMPFIELD BOTANICALS RETAILER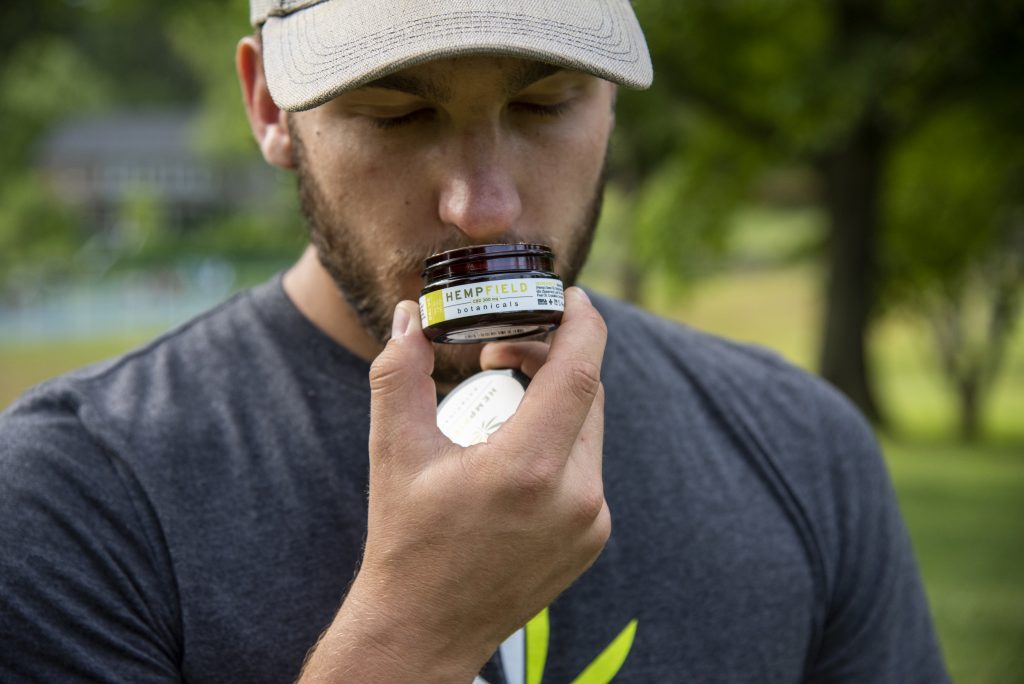 Conner Winn, our Disc Golf Outreach Coordinator & Sales Consultant, is our go-to guy for all things disc golf. Yes, he is a disc golf COVID baby, but he doesn't let that stop him from putting every ounce of passion into the sport of disc golf. Get to know him more below and reach out to him directly with any questions regarding tournament sponsorships, product education or adding HFB products to your retail line up.
Contact Conner at: Conner@HempfieldBotanicals.com
QUESTION: When and why did I get into disc golf?
ANSWER: September 2020. A friend introduced me to disc golf as a way to get out of our dorms at North Carolina State University during the COVID pandemic. However, it only took one round for me to be addicted. I was infatuated with not only the mechanics of throwing, but also the flight of the disc. I soon discovered the competitive side of the sport in the PDGA rated tournaments. After this, my addiction really began to catch fire, because it fueled my competitive nature.
QUESTION:What's your favorite disc?
ANSWER: Buzzz
QUESTION: What's your favorite course played?
ANSWER: Cedarock Park, Burlington, NC or Shiprock DGC, Willow Street, PA
CUSTOM DESIGNED DISC GOLF PRODUCTS COMING SOON!
Discs
Whale Sacs
Belts
Performance Apparel