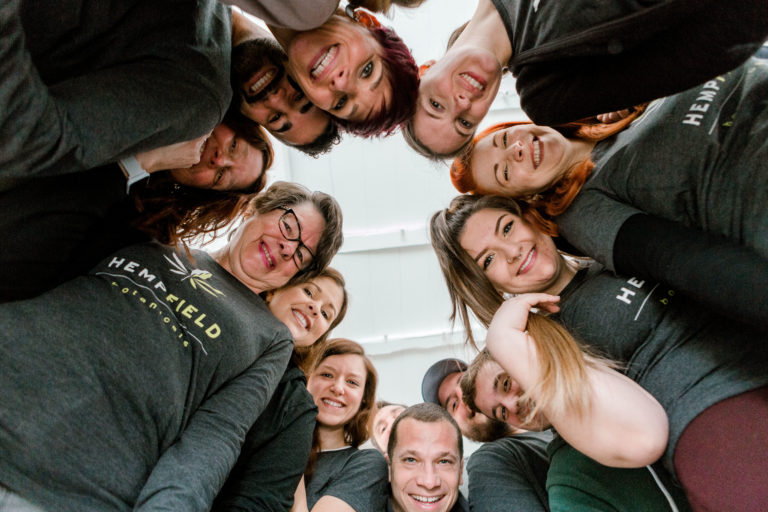 The awards come from both national and local acclaimed publications
Lancaster, PA (Feb. 2020) – Hempfield Botanicals is proud to share that national publications and local newspapers have recognized the company with four awards since this past December, lauding both our products and business record.
"Winning two of central Pennsylvania's most prestigious awards was a great way to cap off 2019," says Heather Kreider, CEO of Hempfield Botanicals. "And starting off the new year with two new awards for our products is a very effective motivator to keep our fire going in 2020. We've curated an amazing team to support us, and we're very grateful for their integral part in this."
Following are the details for each award.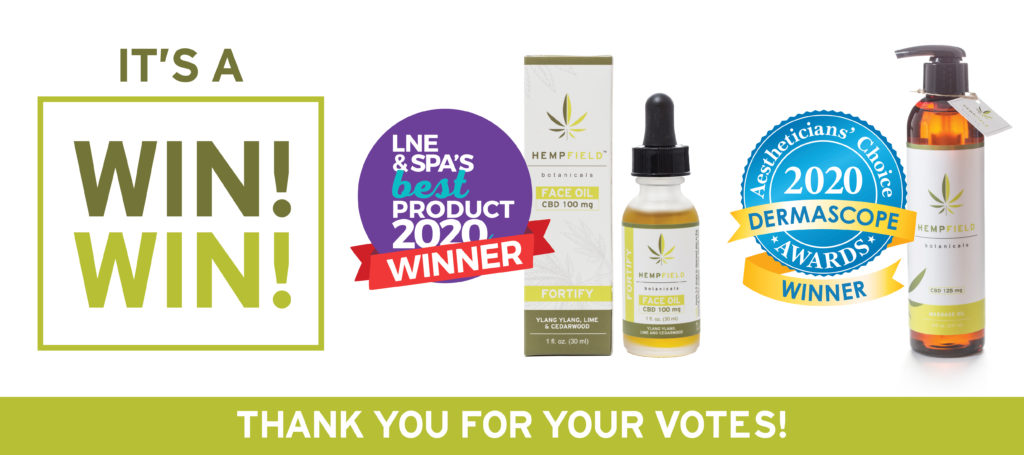 Best Product Awards 2020 – Les Nouvelles Esthetiques magazine
Best CBD Product: Fortify Face Oil

Says LNE about its selection process: "From thousands of products on the market, to over 80 nominees chosen by our educational team, to 22 reader voted winners, the LNE & Spa Best Product Award winners have passed every test with flying colors! These products are celebrated by estheticians and spa therapists around the country for their quality, results, and innovation."

Hempfield Botanicals' Fortify Face Oil is a vitamin C-rich cannabidiol (CBD) oil blend that treats dryness and helps skin defy the effects of aging. Soothing borage seed oil, hydrating hemp seed oil, and other specially selected oils all help Fortify rejuvenate skin. It's also infused with ylang ylang, lime, and cedarwood essential oil for additional therapeutic effects.
---
Aestheticians' Choice Awards – DERMASCOPE
Favorite CBD Oil: CBD Massage & Body Oil

In their sixth year for 2020, the ACAs honor the best brands, products, and people in the skin care and spa industries. Winners are chosen from 12 main categories, with different subcategories chosen each year. Skin care professionals submit nominations for the top four semi-finalists for each category, meaning each nominee is aesthetician-approved. Fans then cast the final vote determining category winners on DERMASCOPE.com.

Our CBD Massage & Body Oil is infused with whole plant hemp-based CBD, hemp seed oil, menthol, and pink grapefruit essential oil. We recommend using it as a professional or home massage treatment, or as an after-shower body oil. Designed with ingredients that have been shown to help ease pain and inflammation while promoting relaxation, it's easily absorbed into the skin for soothing relief from tired and tender muscles and joints.
---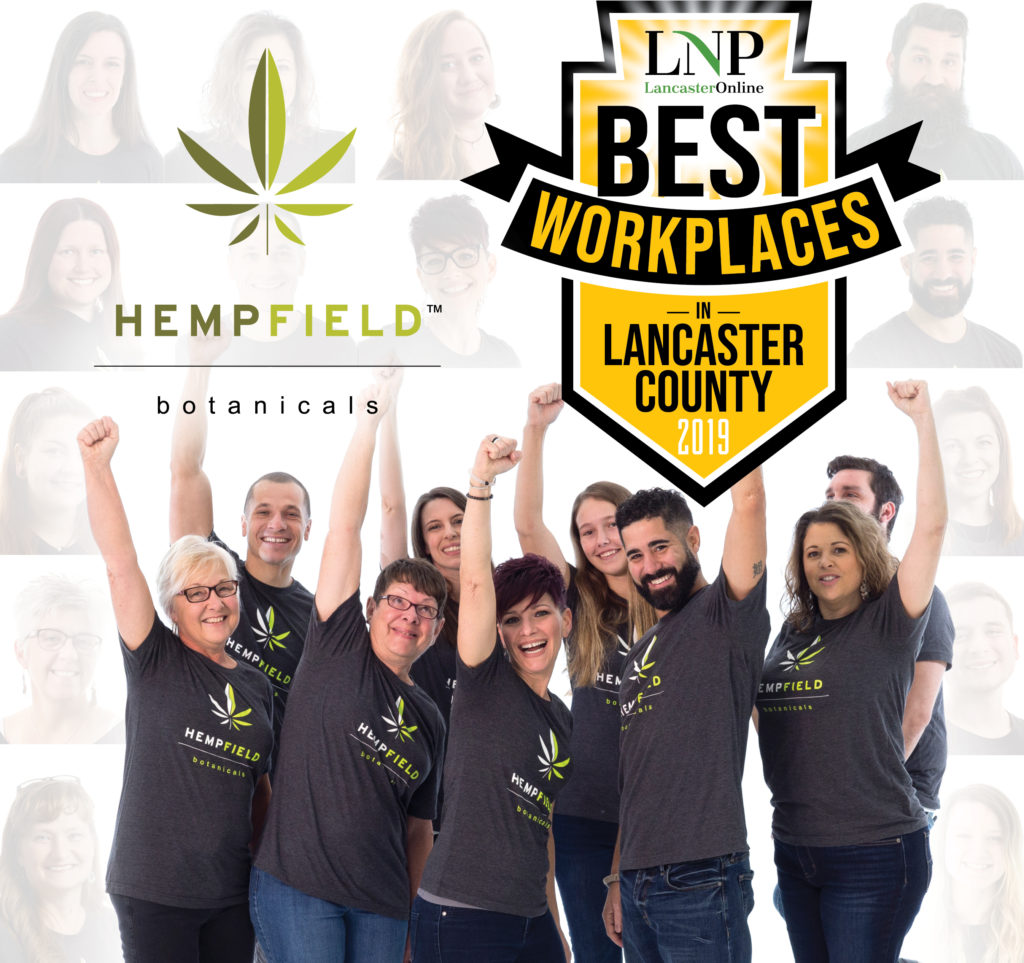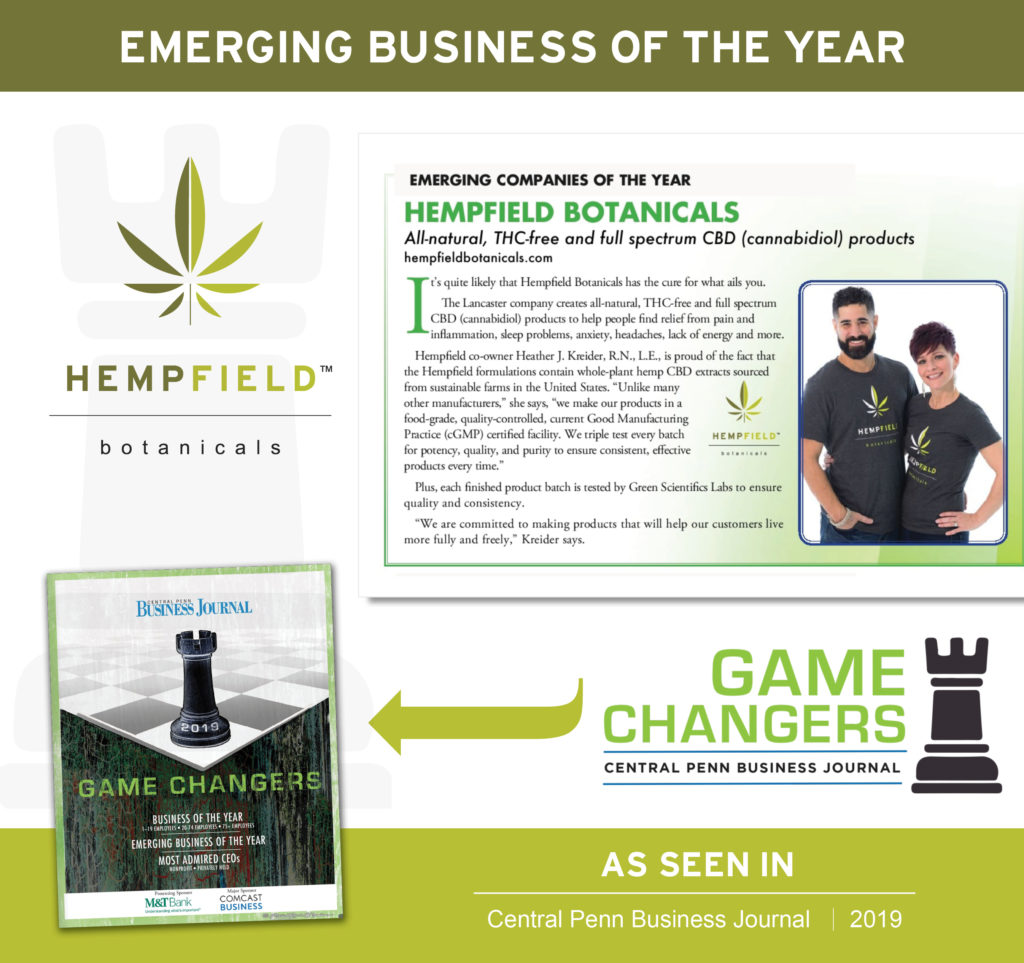 Game Changers Awards 2019 – Central Penn Business Journal
Emerging Business of the Year

The brand-new Game Changers awards were instituted to recognize Pennsylvania's most dynamic and impactful businesses and their leaders. The "Emerging Business" category specifically recognizes commitment to professional excellence, business growth, and the community.
The stringent criteria behind the awards required the company to articulate its success in areas including:
Surpassing challenges experienced as a start-up
Actual and potential growth
Workplace culture and environment
Progress markers and achievements
Involvement in local civic and nonprofit organizations
Plans for growth
---
2019 Best Workplaces in Lancaster County – LNP / LancasterOnline

The newspaper serving Lancaster County, Pennsylvania instituted these awards to recognize the region's most inspiring companies and the people behind their winning cultures.
To be recognized as a Best Workplace, each employee completed a survey measuring LNP's benchmark criteria, which was then measured against the other participating companies.
---
About Hempfield BotanicalsWith the proven healing abilities of hemp-based CBD, our 100% THC-free products contain ingredients known to help relieve muscle, joint, and nerve pain and inflammation. Hempfield Botanicals uses whole-plant hemp extracts otherwise known as isolated crystalline Cannabinoid (CBD). Hempfield Botanicals is available in a range of products including Massage & Body Oil, Muscle Recovery, targeted Salve, Oral Oils, Face Oils, and healing Lip Balm. For more information, visit www.hempfieldbotanicals.com, email Info@HempfieldBotanicals.com, or call (717) 874-8480.
WARNINGS/CAUTIONS: These statements have not been evaluated by the Food and Drug Administration (FDA). Hempfield Botanicals products are not intended to diagnose, treat, cure or prevent any disease. Use only as directed. Keep out of reach of children. As with any health product, consult your physician before use if you are pregnant, nursing, have or suspect a medical condition or are taking any medications.