Description
PLEASE NOTE: You must be 21 years and up to purchase this product and we require proof of valid ID at checkout.
Natural, vegan and packed with hemp-derived 10 mg of D9 THC + 10 mg CBD. Our gummies contain legal, hemp-derived THC and CBD.
2018 Farm Act Compliant
Concentration Facts:
10 mg ∆9 THC (<0.3%) + 10 mg CBD Per Gummy
100 mg ∆9 THC + 100 mg CBD Total
Available Flavors:
Lemonade
Blueberry Lemonade
Watermelon
Mixed Berry
Cherry Pineapple
Ingredients: Tapioca Syrup, Sugar, Water, Citrus Pectin, Citric Acid, Hemp Derived Extract, Natural Flavor and Color.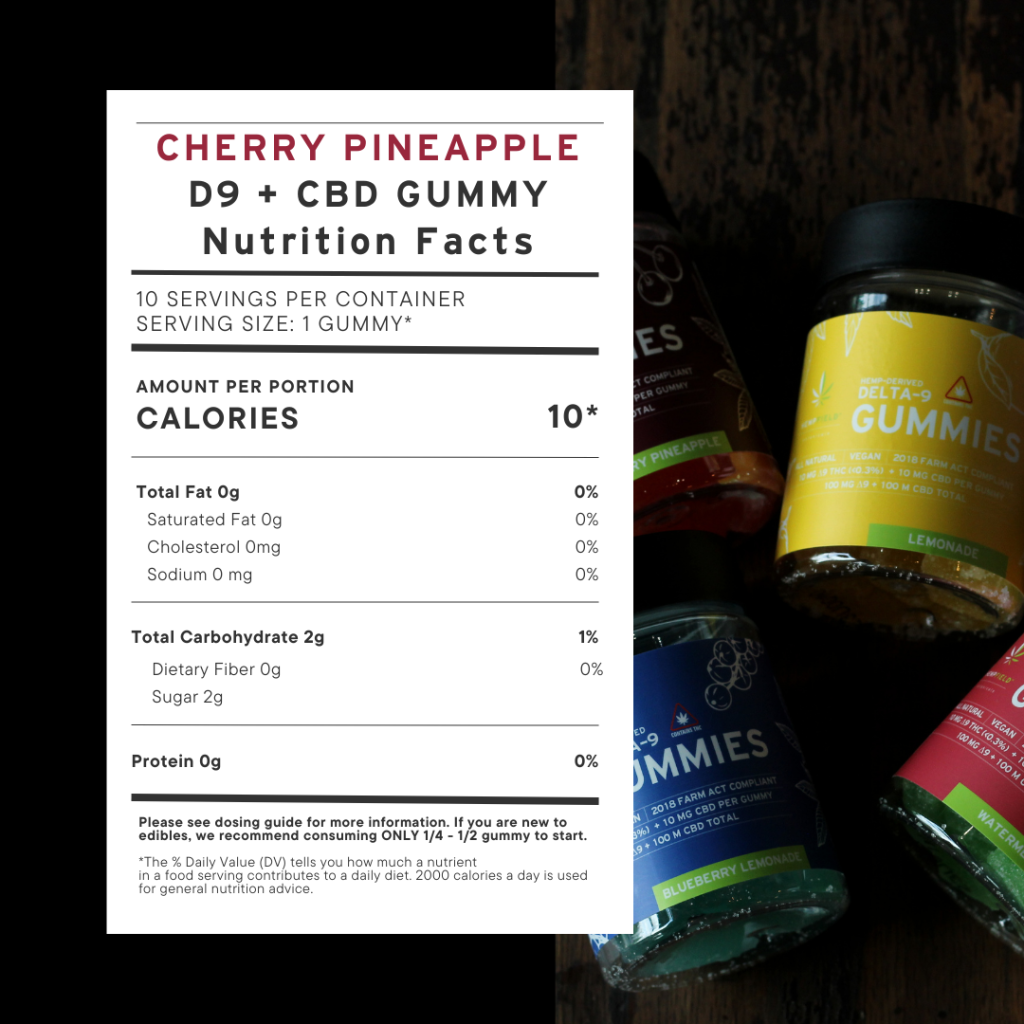 What is Delta-9 THC?
Delta-9 (∆9) THC is one of the most popular and abundant cannabinoids found marijuana and the least abundant cannabinoid found in hemp. It is one of over 100 cannabinoids found in the cannabis plant. Since Delta-9 THC is the most widely used and studied cannabinoid, it is often referred to as THC. Delta-9 THC occurs in both marijuana and hemp plants at varying percentages.
Delta-9 is the compound responsible for the intoxicating high experienced by cannabis users. Besides its recreational use, it possesses medicinal benefits such as its use in the management of medical conditions like chronic pain, Alzheimer's disease, Parkinson's disease, PTSD, Multiple Sclerosis, Amyotrophic Lateral Sclerosis, seizures, and symptoms of HIV and AIDS. Commonly reported side effects of consuming too much Delta-9 THC include paranoia, anxiety, increased blood pressure, hallucinations, and impaired sensory perception. See recommended dose below.
Is Delta-9 Legal in Pennsylvania?
Hemp-derived Delta-9 THC products are legal in Pennsylvania. Pursuant to the 2018 Farm Bill, all hemp-derived products are legalized in the United States as long as such products contain no more than 0.3% Delta-9 THC. Following up on the 2018 Farm Bill, Pennsylvania enacted HB 967 in July 2016, which legalized hemp-derivatives compliant with the federally stipulated definition. Hence, residents can purchase hemp-derived Delta-9 THC products, provided their Delta-9 THC concentrations do not exceed 0.3%.
Delta-9 gummies are legal in Pennsylvania if derived from the hemp plant, not marijuana, containing no more than 0.3% Delta-9 THC. Marijuana-derived Delta-9 gummies are available only to qualified patients under the Pennsylvania medical marijuana program.
What is the typical dose of Delta-9 THC? Start low, go slow.
First, everyone's biochemistry is unique, and this can have an impact on how a person feels after ingesting and metabolizing THC. This means that two people can consume the same amount of THC, but one may feel more of the effects than the other. Factors such as weight, metabolism, and genetics all play a role in how a person will react to a certain dose.
Second, everyone metabolizes THC differently, so it is important to be aware of how long THC can stay in the system. THC is metabolized in the liver and converted into 11-hydroxy-THC, which is more potent and longer-lasting than THC itself. This means that the effects of cannabis edibles can last anywhere from 4 to 12 hours, depending on the dosage. The theory is that the longer it takes for 11-hydroxy-THC to metabolize the more intense and prolonged the effects will be.
In general, for new, inexperienced users, it is recommended to start with a low dose, no more than 2.5-5 mg of THC, to assess effects and find the amount that works best. Increasing the dose slowly over time is a common strategy to ensure the desired effects are achieved without unwanted side effects. We recommend cutting our 10 mg gummies in half, or even quarters, if you are just starting your cannabis journey.
How long does it take to feel the effects of Delta-9 THC?
Many people are aware of the immediate psychoactive effect associated with smoking cannabis but may not be aware of the delayed onset and the extended duration of the effects associated with edible cannabis.
It takes anywhere from 30 minutes to 2 hours to begin to feel the effects of edible cannabis and up to 4 hours to feel the full effects. The intoxicating effects can last up to 12 hours, with some residual effects lasting up to 24 hours, so you could be affected into the next day, depending on the dose.
How soon and how long a person experiences the effects of edible cannabis depends on individual factors including weight, metabolism, sex, and whether the cannabis is eaten on an empty stomach.
The psychoactive effect of edible cannabis has a relatively slow onset which increases the risk of over overconsumption. Pay attention to how long it takes to feel the onset and full effect, as well as how long the effects lasts.
You may find that one 2.5 mg THC dose is enough, but if you choose to increase your dose, wait at least two hours before taking a second 2.5 mg THC dose.
This careful small-dose (micro-dose) approach will help you avoid over consumption that can result in unpleasant effects including extreme sedation/inability to move, anxiety, paranoia, hallucinations, delusions, rapid heartbeat, or respiratory depression.
Will I fail a drug test using this product?
Yes, THC from edibles will show up on a drug test. Ingesting, rather than smoking THC doesn't change the fact it is entering your system. In fact, because of the way the body processes edibles, a drug test may detect THC levels for a much longer period of time. Urine, hair, blood, saliva, and sweat tests can all detect ingested THC.