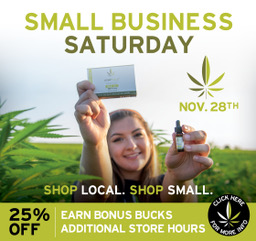 Shop local. Shop small.
Shopping small adds up to big things — and we're just getting started.
Small Business Saturday continues to be an annual holiday shopping tradition — just one part of the larger
Shop Small Movement that supports small businesses every day and everywhere. Because shopping at a family-owned framing spot or buying a handmade ring from your favorite online small business helps to promote more vibrant communities.
So join us on Small Business Saturday and shop local and shop small. We're adding additional shopping hours on Small Business Saturday, November 28, 2020 from 9:00 am EST – 1:00 pm EST. Stop by, say hello and get 20% OFF + Bonus Bucks for your next in-store purchase.