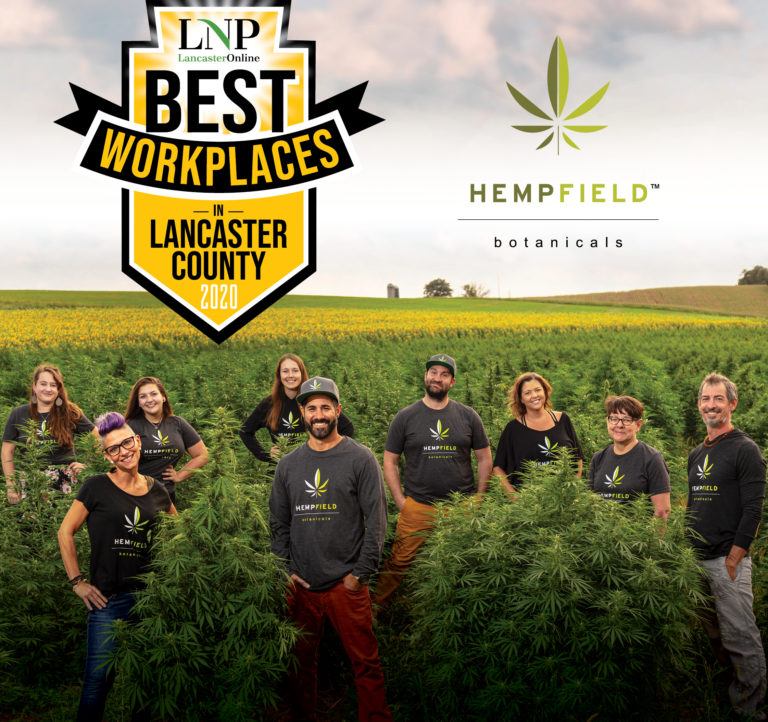 The awards come from both national and local acclaimed publications
Lancaster, PA (Feb. 2021) – Hempfield Botanicals is proud to share that national publications and local newspapers have recognized the company with three awards so far this year, lauding both its products and workplace environment.
"To earn these awards after such a tumultuous year feels incredible," says Heather Kreider, co-founder of Hempfield Botanicals along with her husband, Nathan. "We couldn't have weathered it without our workers, who get our orders out the door. We've always considered them family, and this past year proved they feel the same. We are so grateful to them."
2021 Best Workplaces in Lancaster County – LNP / LancasterOnline
The newspaper serving Lancaster County, Pennsylvania instituted these awards to recognize the region's most inspiring companies and the people behind their winning cultures.
To be recognized as a Best Workplace, each employee completed a survey measuring LNP's benchmark criteria, which was then measured against the other participating companies.
Makes Scents | Hempfield Botanicals won 1st place in the Dining, Shopping, & Lodging category. The company is honored to have also won this year's Debbie Stremmel Award, for scoring the highest in mentoring young people in the workforce. LNP instituted the award last year in memory of Debbie, who came up with the idea for the Best Workplaces awards.
Best Product Awards 2021 – Les Nouvelles Esthetiques magazine (LNE)
Best CBD Product: Muscle Recovery
Says LNE about its selection process: "From thousands of products on the market, to over 130 nominees chosen by our educational team, to 34 reader-voted winners, the LNE & Spa Best Product Award winners have passed every test with flying colors! These products are celebrated by estheticians and spa therapists around the country for their quality, results, and innovation."
Hempfield Botanical's Muscle Recovery lotion is designed to help relieve mild to moderate pain. Its aromatic formulation of cannabidiol, hemp oil, menthol, spearmint, aloe, and pink grapefruit peel oil helps ease muscle, joint, and nerve pain and inflammation. Lightweight and easily absorbed, Muscle Recovery provides fast, effective relief.
Aestheticians' Choice Awards – DERMASCOPE
Favorite CBD Tincture Oil: Comfort Oral Oil
The ACAs honor the best brands, products, and people in the skin care and spa industries. Winners are chosen from 12 main categories, with different subcategories chosen each year. Skin care professionals submit nominations for the top four semi-finalists for each category, meaning each nominee is aesthetician-approved. Fans then cast the final vote determining category winners on DERMASCOPE.com.
Clients use our Comfort Oral Oil to help relieve anxiety through the day. Our calming oil is made with hemp seed oil, cannabidiol (CBD), and specially compounded terpenes. Like all of our oral products, Comfort has been formulated by licensed compounding pharmacists with expertise in the cannabis industry.
---
About Hempfield Botanicals
With the proven healing abilities of hemp-based CBD, our 100% THC-free and full-spectrum products contain ingredients known to help relieve muscle, joint, and nerve pain and inflammation. Hempfield Botanicals uses whole-plant hemp extracts otherwise known as cannabinoids. Hempfield Botanicals is available in a range of products including Massage & Body Oil, Muscle Recovery, targeted Salve, Oral Oils, Face Oils, and healing Lip Balm. For more information, visit www.hempfieldbotanicals.com, email Info@HempfieldBotanicals.com, or call (717) 874-8480.